Freshmen #169: Kirk Gauguin Fucks Elio Chalamet
The last Freshmen issue of the year 2019 brings us two very hot bareback hardcore videos and a special behind-the-scenes video from Cape Town.
For me, Kirk Gauguin Fucks Elio Chalamet is the absolute highlight of Freshmen Issue #169. But of course, the second hardcore video with handsome bisexual (ex-) elite soldier Bruce Querelle and Christopher Caan is also promising (see here). And the Dancing In The Sun special from South Africa features some really hot boys. And give us an outlook of what to expect next year. Like a very a sexy newcomer Ethan O'Pry (see here).
Also present in that Dancing In The Sun video is Elio Chalamet. And there we see that cute twink Elio is developing into quite the young hunk. Shorter hair and more muscles all around, we can only imagine with what kind of guys he's hanging out. I am guessing Paul Cassidy and crew. Studio boss George Duroy will look closely that he doesn't overdo it.
Kirk is down because he's failed his exam. Elio is happy to help and cheer him up. But when he learns that this exam was actually in volleyball, he has to laugh. But Kirk is serious. At least he passed the football exam. Before he falls off the bed laughing, Elio suggests Kirk to have another exam in PT. I am guessing he means personal training (?). Of course he means sex, and Elio will be the examiner.
Well, nothing is easier for Kirk than this. He has all the experience for the job, and his sex partner here is a total hottie. Both guys are. And it's no surprise, they are both TOP 10 performers on Freshmen (see here). Two tanned and smooth muscle boys. Elio has an amazing bubble butt and Kirk a big and thick cock. And now it's the examiner, who looks somewhat challenged. But he masters Kirk's hard dick and in the end, gives handsome Kirk an A+.

MORE FRESHMEN I MORE ELIO CHALAMET I MORE KIRK GAUGUIN
Kirk Gauguin Fucks Elio Chalamet from Freshmen: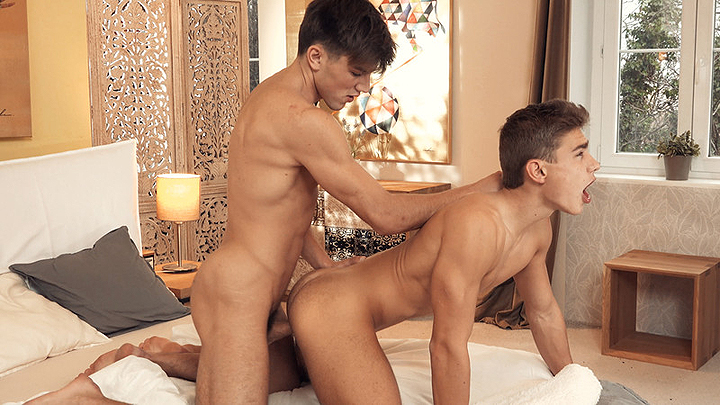 ( Watch the full trailer here! )