Freshmen #195: Andre Boleyn Fucks Bennett O'Boyle
The first sex scene of Issue #195 from Freshmen brings us the hardcore debut of young Czech guy Bennett O'Boyle in a scene with experienced Andre Boleyn.
I already brought you the John Leto Solo Gallery from this week's Freshmen Issue #195 (see here). Also in this issue, Kevin Warhol fucking Benny Saverin (see here). And today, I am bringing you Andre Boleyn Fucks Bennett O'Boyle. A video that features Bennett's hardcore debut.
I still wouldn't call Bennett a newcomer. Since he was introduced on BelamiOnline back in November 2015 with his casting video. Followed by his PIN UP gallery a year later. Who knows why they waited so long to release his first hardcore video. It sure looks like this video ended up in their unreleased archive and stayed there for many years.
In his casting video, Bennett told us that he's 22 years old. And after describing his first time with a girl in many details, Bennett tells us about his first time with a boy. A friend of him started chatting with him. And Bennett got the impression, the boy wanted to seduce him. He though to himself, why not, could be fun. And they met up for some drinks.
While Bennett apparently got too drunk to remember what happened that night, there luckily is a video of his first time with Andre. Andre Boleyn is a total pro. He was introduced back in 2010 and with all that experience, there certainly comes routine with his performance. But he's also quite passionate and a great kisser.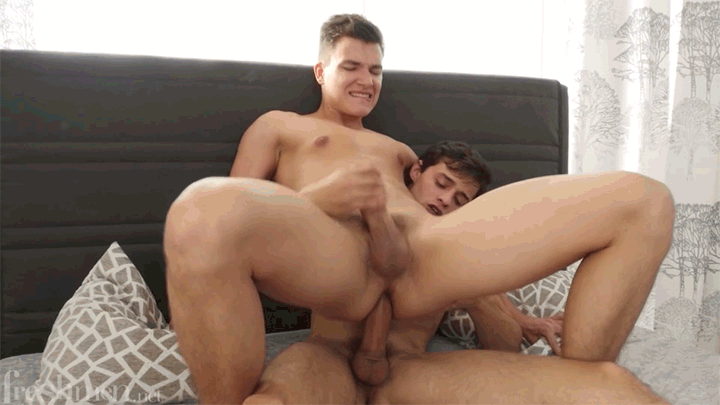 Despite being into guys, Bennett is somewhat challenged while getting fucked by this sexy top. But it's still obvious he likes cock. And later on in the video, while being on top of Andre, Bennett furiously fucks himself with Andre's big raw cock.
4th of July sale on Freshmen! Get a full month full access for only $17.76! This membership rebills at $19.95, so you save another $5.00 each and every month for the life of the membership!
MORE FRESHMEN I MORE ANDRE BOLEYN I MORE BAREBACK
Andre Boleyn Fucks Bennett O'Boyle from Freshmen:
( Watch the full trailer here! )