EastBoys: Stories With Johny Walsh – Part 2
Today I am bringing you the second part of this little EastBoys series with hot boy Johny Walsh showing off his goodies in the great outdoors.
Earlier, I brought you part 1 of this series (see here) from EastBoys, and now it's time for Stories With Johny Walsh – Part 2! So if you saw the first part, you already saw parts of this one. Since they are cutting the clips to tease you with what's coming up in the following ones. The first part was mainly about Johny showing off and being fondled in that old ruin. And this part is Johny showing off in a filed in the golden evening sun.
Boys like Johny just love being told how hot they are, showing off and being worshipped. This producer Angelo Rossi always seems to be able to connect to these boys. I have no idea what he tells them, but it looks like it's working. Or maybe Johny just that confident about himself, that he thinks he's the hottest guy on the surface of this planet. I mean, he's definitely hot, but that confidence makes him even hotter.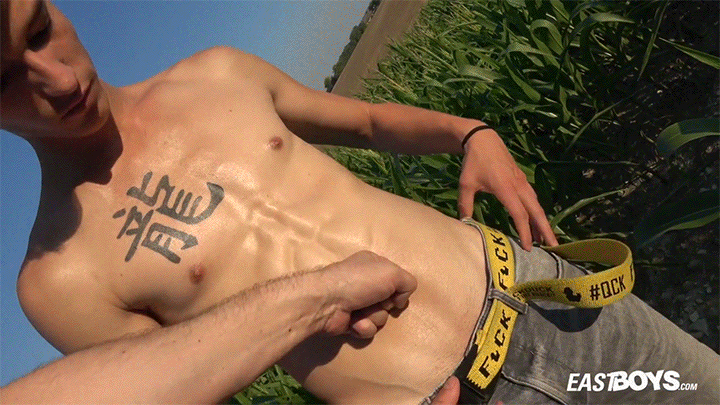 Johny is young and lean, jumps over a gate, jumps on his skateboard, jumps around naked on that field, even making a summersault. Of course Angelo's greedy hand also gets to touch that beautiful cock. But this is just the warm up. Later that evening on the balcony of a hotel, after having a smoke together, he really strokes and teaser and edges Johny. That's before they move over to the bed… But you will see this in Part 3 coming soon here.
MORE EASTBOYS I MORE JOHNY WALSH I MORE PUBLIC NUDITY
Stories With Johny Walsh – Part 2 from EastBoys:
( Watch the full trailer here! )