GuysInSweatPants: Evan Knox Fucks Miller Axton
Great update from GuysInSweatPants bringing us a passionate and sweaty fuck with hung boy Evan Knox fucking black jock Miller Axton!
Evan Knox was introduced on GuysInSweatPants back in August when he bottomed for Josh Skywalker in Meet The New Boy. Now this versatile hottie with a fat cock is back in Evan Knox Fucks Miller Axton. What a cutie. And what a delicious dick! Like Evan, Miller Axton is versatile. And he just couldn't wait to jump on the beautiful and thick twink-dick and ride with his sexy muscle butt.
Of corse you know Miller Axton. I featured him in many scenes on my other blog BlackisBig (see here), both as a top and as a bottom. Today he's all dick-hungry bottom. Could have also been a great flip fuck here, but I guess Miller just wanted to ride that boy until he busts a huge load all over his face. And since we have seen Evan bottom before, it was time for him to show off his skills as a top.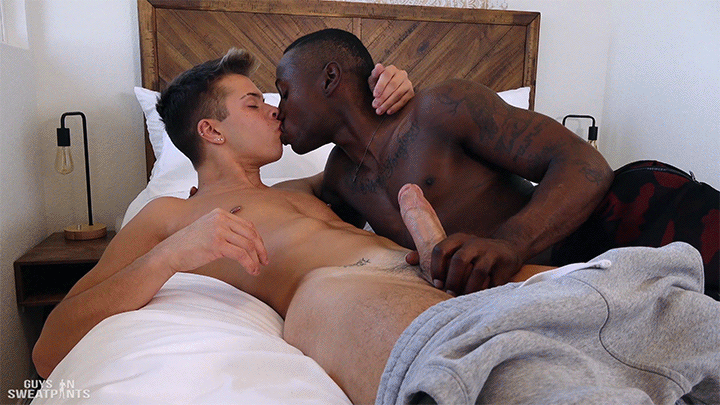 And as you can see here, Evan knows how to stuff a hungry hole with his fat cock. Even an experienced guy like Miller almost crawled off the bed while getting pounded by this horny twink here. But seeing Miller ride this boy, you can tell how much loved that thick twink-dick. Miller had one proposal, he wanted the boy bust his load in his face. And that's exactly what he got.
GUYSINSWEATPANTS 8TH ANNIVERSARY SALE: get a full month full access for only $8 – or 6 months for only $88!
MORE GUYSINSWEATPANTS I MORE INTERRACIAL SEX I MORE FACIAL CUM
Evan Knox Fucks Miller Axton from GuysInSweatPants:
( Watch the full trailer here! )