HelixStudios: Happy Campers #4 – Kane Fox & Levi Rhodes
Great HelixStudios series Happy Campers continues this week with episode #4 and Kane Fox bareback fucking cute twink Levi Rhodes in the bushes.
Over the past weeks, I brought you the previous episodes from great HelixStudios series Happy Campers. Episode #1 with the three jocks Josh Brady, Kane Fox and Seth Peterson fucking in a tent (see here). Episode #2 with twink couple Trevor Harris and Levi Rhodes having make-up sex before leaving on their camping trip (see here). And Episode #3 with Josh Brady fucking his buddy Seth Peterson (see here). Continuing today with Happy Campers #4 – Kane Fox & Levi Rhodes.
Trevor Harris just can't help it. He's stubborn and offended that those three jocks won't leave him and his boyfriend Levi Rhodes alone. Since he's the one who pre-reserved this camping spot. And the fact that Levi actually wants to make the most of this situation and befriend those guys doesn't make it any better. Levi tries for one last time, to convince Trevor to relax and be more adventurous, but it doesn't work.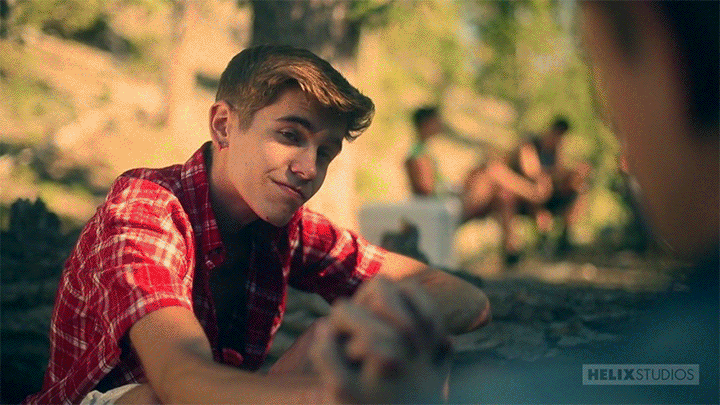 So while Trevor decides to take a nap in the tent, Levi joins the guys. And when hot jock Kane Fox asks, if anyone wants to join him for a walk, Levi does. During their first break, Levi is all in the moment, taking in the beautiful view. And soon, one thing leads to another and the guys are making out heavily. But this is just the start, and while his boyfriend is lying in his tent, Levi is all adventurous and takes Kane's big hard jock-cock bareback up his tight little boy-ass.
MORE HELIXSTUDIOS I MORE KANE FOX I MORE LEVI RHODES I MORE HAPPY CAMPERS
Happy Campers #4, Kane Fox & Levi Rhodes from HelixStudios:
( Watch the full trailer here! )