BoyFun: Andy Ford Fucks Harry Davis
That cute ginger twink from

BoyFun

called Harry Davis takes on his next big challenge with slim and hung Slovak Andy Ford.
Another twink-on-twink scene from BoyFun, now that they have a sister site catering jocks/studs-on-twinks videos called Jawked. Andy Ford Fucks Harry Davis is actually called Dial B For BoyFun on their site. But I like to used the models' names in the headline, so you guys know what to expect. And when Andy Ford is staring in a new scene, you know there is a huge dick involved. Harry Davis is that cute red headed twink, who first appeared in December 2020 on a gay porn site. And this is already his 23rd release.
I brought you one of his scenes from WilliamHiggins with my favorite boy Adrian Serdar (see here). Plus a previous one from BoyFun that features him as a top with super horny boy Denis Nowak (see here). And just recently a solo gallery (see here). Oh, and I brought you lots of updates featuring Andy Ford here on this blog (see here). While Andy Ford is not everybody's type, guys are into gingers should definitely love Harry Davis. He's cute, has a big dick and very bouncy low hanging balls. And a great bubble butt.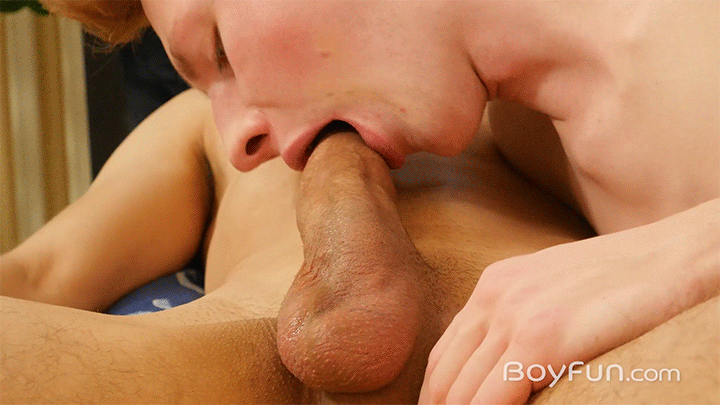 Here his dick and balls bounce all over the place while riding Andy Ford's huge cock. First the guys of course exchanged blowjobs. And Andy Ford has definitely improved his oral skills. Earlier it looked like he didn't really enjoy having another guy's cock in his mouth. I love that Harry starts licking Andy's big balls and thick and long shaft before sucking that fat cock. For most of the fucking, Harry is riding Andy. Only for the cum shots, he gets into missionary, or better into a frog lying on his back position. A cute frog though. They never show the cum shots in BoyFun promotional content, so you actually have to join their site if you want to see that. But they offer a 3-day trial for only $4.95, in case you are interested.
MORE BOYFUN I MORE ANDY FORD I MORE HARRY DAVIS
Andy Ford Fucks Harry Davis from

BoyFun

:
( Watch the full trailer here! )