Freshmen #63: Viva Colombia – Abigael Sanchez
This week Freshmen started their series Viva Colombia with two hardcore scenes featuring their standard models, a great solo of thick dicked Peter Annaud, and their first Colombian casting videos, featuring a local boy named Abigael Sanchez!
Wow, what a cock! I mean of course not all of their members will be delighted about this video featuring slim Colombian boy Abigael Sanchez. He is simply way too different from their usual East European twinks and jocks.
But there also a lot of positive comments about Abigael. And those who complain, always complain. Even about the European boys. Too much public hair, not enough pubic hair, dick is curved, not enough ass shots, not attractive enough.
Yes, Abigael has long hair, has darker skin, is slim and short. But he has a great smile, an exotic look, is polite – and has a huge uncut cock. And that cumshot is simply amazing!
Those who are pro Abigael were already dreaming about who they want to be his first bottom. But at this point, we don't even know if there will be more of him.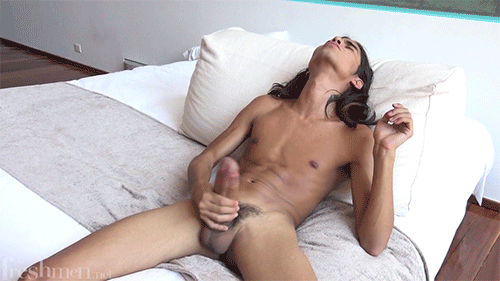 While in Colombia, they shot 12 casting videos and selected 4 of those boys to shoot more with them for their series Viva Colombia. And as I mentioned before, they also release a lot of content with their usual Freshmen models shot in Colombia.
The Viva Colombia series will be released over the coming weeks only on Freshmen. On BelamiOnline, you can watch the behind-the-scenes documentaries called Colombian Tapas that has already started two weeks ago.
MORE FRESHMEN I MORE VIVA COLOMBIA I MORE LOCAS FLAVOR BOYS
Viva Colombia – Abigael Sanchez from Freshmen: