FunSizeBoys: Caleb & Dr Wolf – Chapter 01
This episode from FunSizeBoys brings us a cute and small newcomer to the site called Caleb Cumming and he's about to meet the notorious Dr. Wolf.
In Caleb & Dr Wolf – Chapter 01 from FunSizeBoys, little Caleb Cummings is about to meet Dr. Wolf. And he's in for a thorough examination. Since the notorious Dr. Wolf has a week spot in his heart for tiny boys. And with a height of just 5'1″, cute twink Caleb certainly is tiny.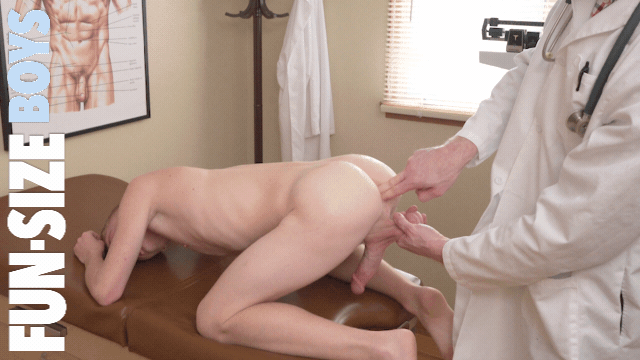 You might know Caleb Cummings from other site. He first appeared as Caleb Anthony on FamilyDick and as Charlie Flynn on HelixStudios. Recently, he also had a release on BrotherCrush. HelixStudios listed him as being 20 years old, so no need to worry. Caleb might be small, but he's not underage.
All Caleb wants is to be treated like an adult! But when most people see him, all they see is a little boy. Yes, Caleb is small for his age. He always has been. At just over 5'1", he's always been teased for his small stature. Even as he turned 18, the folks around him still treat him like a child. He tries not to let it get to him, but he wants to be seen as a young man so badly!
Of course little Caleb didn't expect to find in the doctor someone, who more than appreciates his tiny frame. And so it doesn't take long and the doc leans for a kiss and stuffs his hand down the young man's pants. But the boy's respectable 6 inch cock is not really what he's looking for. The Doc wants to stuff his own huge cock down Caleb's throat. And bareback fuck that smooth and tight ass, right here in his office.
MORE FUNSIZEBOYS I MORE OLDER ON YOUNGER I MORE CALEB CUMMINGS
Caleb & Dr Wolf – Chapter 01 from FunSizeBoys:
( Watch the full trailer here! )