Freshmen #206: Nate Donaghy Fucks Allan Aimée
Today I am bringing you the second sex scene from Freshmen Issue #206 featuring cute twink Allan Aimée and horny young stud Nate Donaghy.
Poor Allan Aimée. The scene Nate Donaghy Fucks Allan Aimée from Freshmen Issue #206 was actually filmed on one of the coldest days last winter. And little Allan had to wait outside until Nate's girlfriend had finally left for work. When Allan arrived at Nate's place, he was almost frost bitten. Nate on the hand was only dressed with a towel wrapped around his waist, and ready to go! Wild young stud Nate just needs to fuck a tight boy-ass every once in a while.
Nate made sure young Allan quickly warmed up. By undressing him, sucking his big cock and rimming that sweet tight hole. Allan got quite the treat here from Nate, even before he could wrap his luscious lips around Nate's huge cock and take it deep into his big mouth for a hot and very wet blowjob. Nate was close to dumping his load in Allan's warm mouth, but he still wanted to fuck this cute boy.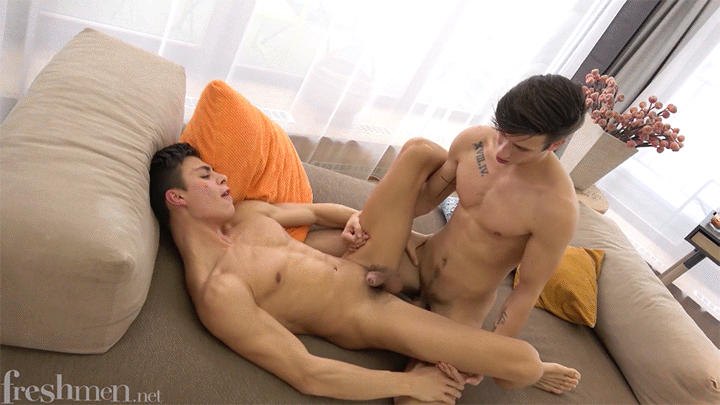 At first, Nate was really careful with his new fuck buddy. Allan is still quite new to this. Earlier this month, I brought you Allan with another big dicked young stud, Bastian Dufy (see here). And now his next lean young fucker. And after stretching that tight hole with some slow and deep strokes, Nate started pounding Allan like there was no tomorrow. Allan just took what Nate had in store for him. And ended up with a thick and creamy load all over his cute face.
Next week with Issue #207, Freshmen starts their new series called Budapest Adventures. There is a double feature with Eluan Jeunet & Yannis Paluan waiting for us (part 1, part 2), and a gallery featuring Mario Texeira with cute and hung newcomer John Leto (see here).
MORE FRESHMEN I MORE ALLAN AIMÉE I MORE NATE DONAGHY
Nate Donaghy Fucks Allan Aimée from Freshmen:
( Watch the full trailer here! )