Freshmen Preview: Issue #205
On Tuesday, the new Freshmen Issue #205 will be released and feature three bareback hardcore videos with more experienced performers topping twink newcomers.
So today I am trying this new format, which might become a regular for Sundays, giving you an outlook of the upcoming Freshmen Issue. And I am starting with Freshmen Preview: Issue #205. As you might know, Freshmen comes in weekly issues, that are released on Tuesdays. And they usually feature 3 items of content. Mostly, 2 hardcore videos and a solo gallery, or an interview & solo feature.
At this point I would like to remind you, that Freshmen is still on sale. Get the monthly recurring for only $14.95 (that's $10 off) for the first month, that rebills for $19.95 (that's $5 off for the life of the membership!). Or choose the 3-months recurring for only $44.95 (that's $15 off).
Freshmen Preview: Issue #205
Sex Scene #01: Mario Texeira & Kristian Bresson:
( Watch the full trailer here! )
Cast: Mario Texeira (top), Kristian Bresson (bottom)
They are slowly introducing Kristian Bresson on Freshmen. Starting with his first hardcore scene back in May bottoming for handsome and hung blond Eluan Jeunet (see here). Last month, they featured him in a great solo gallery in Freshmen Issue #200 (see here). Some of you might already know him from Staxus, where he appeared in two scenes as Jerome Culkin earlier this year (see here).
Handsome jock Mario Texeira is already well established on both BelamiOnline (see here) and Freshmen (see here). And here on this blog (see here). Usually more of a bottom, it's great to see him top a cute newcomer here. Last year, Mario had the honor of not only showing American guest-star Blake Mitchell around in Prague, but also to bottom for him (see here). My favorite scene of Mario is still from a BootCamp issue back in November 2018, when he bottomed for big dicked Kian O'Connor (see here).
Sex Scene #02: Ricco Gabbani & Kirk Gauguin: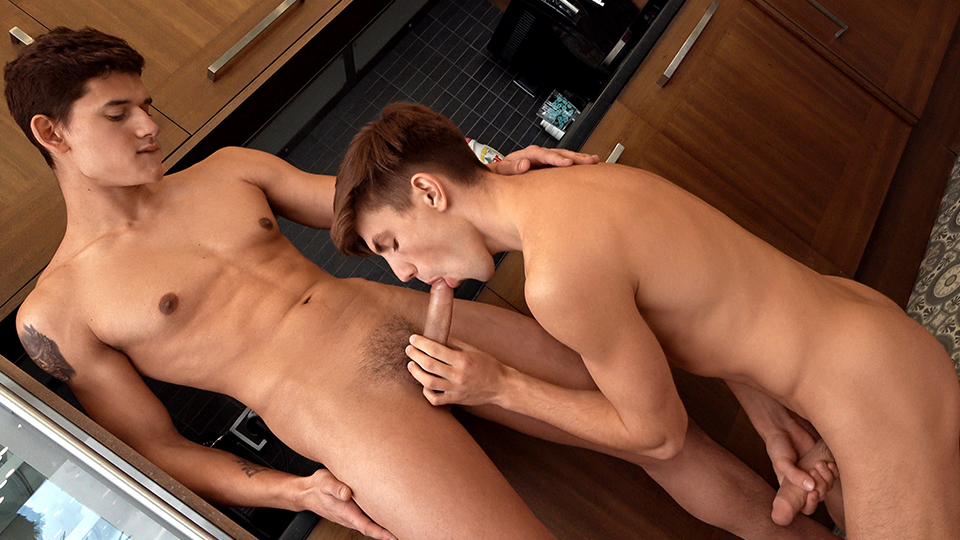 ( Watch the full trailer here! )
Cast: Kirk Gauguin (top), Rico Gabbani (bottom)
This scene is actually the very first release of newcomer called Rico Gabbani. At least on their two sites BelamiOnline and Freshmen. However, any of you might recognize Rico. Late last year, he was introduced as Adamek Alex on WilliamHiggins and already has a few releases on their site, the latest from last week (see here). He also appeared on sites like EastBoys as Breno Gomes, on UkNakedMen, SouthernStrokes and BoyFun as Luke Geer. I think he's hot, but let's see how their members appreciate that he's been featured elsewhere before coming to Freshmen.
Not much to tell you about Kirk Gauguin. Other than that it's always great to watch him perform. I think he's getting hotter and hotter the older he gets. Watch him in his previous scene on Freshmen fucking newcomer John Lennox (see here). Or his latest video on BelamiOnline with blond babe Elio Chalamet (see here).
Sex Scene #03: Pierre Cezanne & Ayden Mallory:
( Watch the full trailer here! )
Cast: Pierre Cezanne (top), Ayden Mallory (bottom)
This release is the hardcore debut of new boy Ayden Mallory. He was introduced in Freshmen Issue #194 in June with a solo gallery (see here). Apparently, he's a total newcomer to the biz. And since they haven't released an interview or casting video of him yet, there isn't much I can tell you about him at this point. But definitely a cutie who handles Pierre's big uncut cock quite well.
Calling Pierre Cezanne an established performer is not the full truth. Introduced 3 years ago with his casting video on BelamiOnline, they haven't brought us much content of him since then. His latest scene was released on Freshmen more than a year ago, fucking muscle boy Paul Cassidy (see here). I brought you his scene with Enrique Vera here from late 2018 (see here). Which turned out to be quite popular. Check it out!