Freshmen #214: Benoit Ulliel Fucks Ashton Montana
The second hardcore scene of this week's Freshmen Issue #214 brings us tall and sexy bottom boy Ashton Montana with Benoit Ulliel.
Well first of all, there is quite a size difference between these two guys in Benoit Ulliel Fucks Ashton Montana from Freshmen. Benoit is only 5'6″ (170 cm) tall, and Ashton 6'4″ (194 cm). And here, the tall boy Ashton is the bottom. But little Benoit handles the situation, and Ashton's long legs, pretty well. Ashton is not only tall, but also has a huge dick. And for change, the video starts with Benoit sucking off Ashton.
Of course the scene isn't over after Ashton busts his huge nut. It's just the of start if it. After successfully sucking that big load out of Ashton, Benoit makes the tall boy turn around and rims that hot bubble butt. And Ashton loves that so much, he wants more. Like a big hard dick up his hungry little hole. Benoit might not be a big guy, but his cock has the right size to make Ashton very happy here.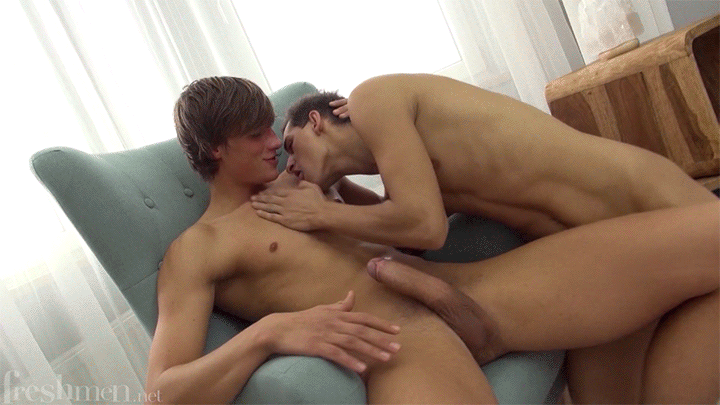 It's quite obvious here that Benoit is the more experienced guy. And it's funny to read, that apparently now Ashton is training newcomers. Like Sammy Poulain for example, who fucks John Leto in the second hardcore scene of this issue (see here). Benoit falls into the category of their wild boys, as they mention on his profile page. And that's also how he has sex with his scene partners. But no worries, Ashton can take it…
MORE FRESHMEN I MORE BENOIT ULLIEL I MORE ASHTON MONTANA
Benoit Ulliel Fucks Ashton Montana from Freshmen:
( Watch the full trailer here! )