HelixStudios: Damien Ellis Fucks Caleb Gray
Super interracial update from HelixStudios featuring their ripped young stud newcomer Damien Ellis in his second hardcore scene fucking Caleb Gray.
He's back! In Damien Ellis Fucks Caleb Gray from HelixStudios, ripped young hunk Damien finally returns for his second hardcore video. The first one, Introducing Damien Ellis with Brian Gibson was released in August (see here). And in September, they brought us the Damien Ellis Solo Session (see here). I was already getting worried, that they only filmed those two videos with him.
Damien Ellis is such a sexy young hunk. He's 21 years old, he's gay and top only, loves to cook and work out. Which is quite obvious. With this ripped body and bulging muscles. Damien also has a huge bulge in his pants, with a thick 8.5 inch cock. First guy to enjoy a deep pounding by this beautiful cock was Brian Gibson. And here, it's hot boy Caleb Gray's turn to submit to this sexy young stud.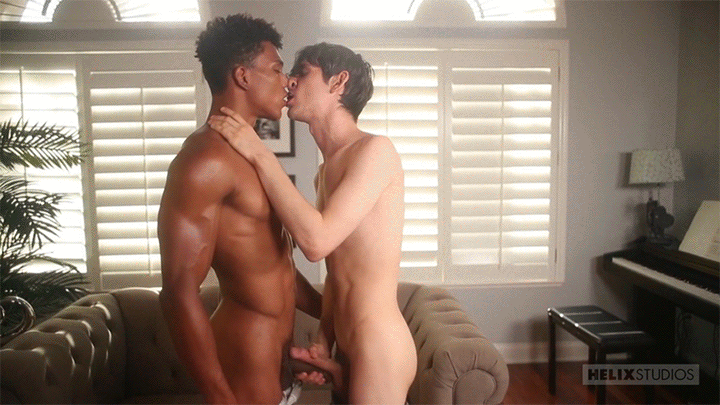 This is a #helix release. Fans can send in requests and questions. But the real fun starts when the guys are allowed to start the action. While making out, Caleb rubs his large cock against Damien's. What of course looks super hot. Then the white bottom boy gets to service that thick black cock. And Damien returns the favor by eating out Caleb's little twink-hole. There is no wild pounding here, though. Looks almost like Damien has to hold back, so he doesn't cum prematurely. Maybe they should let him bust a first nut inside his boys, and then continue fucking…
MORE HELIXSTUDIOS I MORE DAMIEN ELLIS I MORE CALEB GRAY
Damien Ellis Fucks Caleb Gray from HelixStudios:
( Watch the full trailer here! )