Local Flavor: Colombian Boy Mateo Diaz
This week's issue #67 from Freshmen brought us their 2nd instalment of new series Viva Colombia and a cute, and very hung, local boy Mateo Diaz!
Their first Viva Colombia release, Issue #63 from December, already brought us a very cute and hung Colombian boy called Abigael Sanchez. Abigael didn't only have a huge cock, but also shot an impressive load: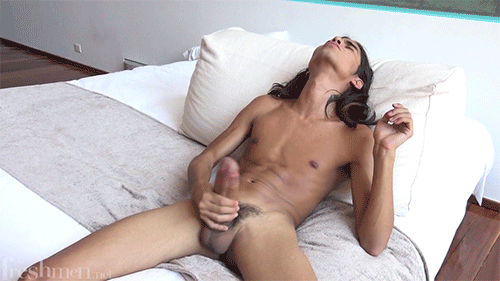 This month's Colombian boy Mateo Diaz might not cum as much. But he sure has a fat cock as well. And best of all, Mateo will be back for more. In the upcoming Viva Colombia issue, he will ride Peter Annaud's thick uncut cock bareback.
Like for Abigael, this was Mateo's first professional photo shooting. He was a bit shy at first, but well aware of his features. With his rock hard cock in his hand, he soon relaxed and started enjoying the situation.
Mateo has a slim and smooth body. And that fat cock looks almost out of place. His ass is big, round and smooth. The perfect bubble butt. I am really looking forward now to see him in action.
They filmed a couple of hardcore scenes with Mateo, not only the one with Peter Annaud, that will be released next month. I'm sure, Joaquin Arrenas had lots of fun training this boy.
In part 1 of the behind-the-scenes documentary Colombian Tapas, that you can watch on BelamiOnline, we get to see Mateo fucking Joaquin.
Local Flavor: Colombian Boy Mateo Diaz from Freshmen: