Freshmen #199: Andre Boleyn Fucks Fabien Jacq
The last Freshmen Issue of this month is a so called Kinky Angels Issue and here we have kinky Andre Boleyn with super popular twink Fabien Jacq.
A little surprising to me, the Freshmen members seem to totally love cute bottom boy Fabien Jacq. He's currently their 4th most popular model, and has surpassed many of their big stars. Today, Freshmen Issue #199 brings us Andre Boleyn Fucks Fabien Jacq. An experienced former Kinky Angel with this cute slim twink.
Btw, Andre Boleyn is #14 in the Freshmen ranking. Not that bad for a guy who all but fresh. His first release on BelamiOnline was a PIN UP gallery in September 2010. Since then he has 69 videos and 18 galleries released on BelamiOnline (see here) and 21 videos on Freshmen (see here). The content on KinkyAngels is no longer accessible. This is only Fabien's 10th hardcore video on Freshmen (see here).
Here Rhys Jagger introduces Fabien to Andre as one of their newbies. Andre immediately suggests, he could be the cute twink's trainer. Fabien totally doesn't mind and once they arrive at Andre's apartment, turns out to be a very eager student. Andre gives the boy a tour of his place, which suddenly ends when they reach his couch. Where they start making out and jump out of their clothes.
Andre can't keep his hands off the boy's sweet tight ass. And before they take turns sucking each other's cocks, he wants to get a taste of that delicious butthole and lick it. Fabien has quite a hairy butt crack, for all those of you who are into natural body hair. Looks like Fabien's oral skills still need some training, though. But Andre rather wants to fuck his cute partner anyways.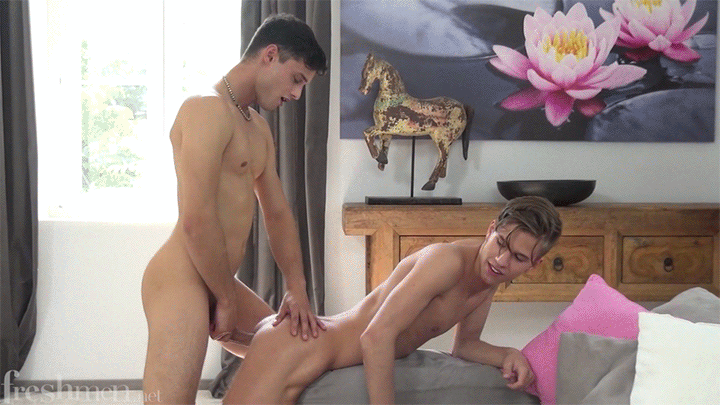 They don't say how many hardcore scenes Fabien has already filmed when this scene was shot. But Andre is very gentile while entering him from behind. Much to the enjoyment of both of them. Later Fabien jumps on Andre's hard cock. And suddenly, it doesn't look like he's that new to all of this anymore.
MORE FRESHMEN I MORE ANDRE BOLEYN I MORE FABIEN JACQ
Andre Boleyn Fucks Fabien Jacq from
Freshmen
:
( Watch the full trailer here! )