FalconStudios: The Chalet – Peter Annaud Fucks Skyy Knox
Today, FalconStudios released the first scene of their latest production called The Chalet filmed in the Austrian Alps featuring Skyy Knox and Peter Annaud.
Peter Annaud in a FalconStudios production? What? Well, in The Chalet – Peter Annaud Fucks Skyy Knox, for the first time ever, the all-time BelAmi exclusive appears in production of another studio. We all knew this day would come sooner or later. The day where Peter retires from BelamiOnline and Freshmen. However, here Peter is introduced by FalconStudios as BelAmi exclusive. So maybe, that day hasn't come yet. And if you don't know who Peter Annaud is, just look here!
Skyy Knox on the other side is a FalconStudios exclusive. And actually British. Like the whole cast of this production is European. Coincidence, or due to the pandemic? Who knows. Since most of the models of The Chalet have worked for FalconStudios before. All but Dmitry Osten, who will appear in scene 04 with Colton Reece. And of course Peter Annaud and Jim Durden, another hot BelAmi exclusive.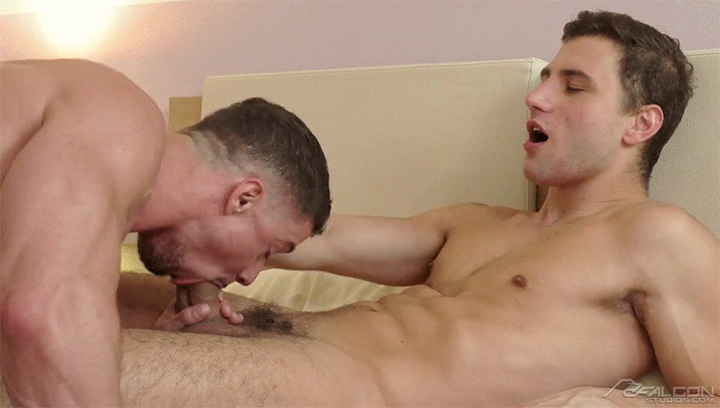 Here we get to watch muscle hunk Skyy Know and his ski instructor Peter Annaud in some hot après-ski in Skyy's hotel room. It's definitely Skyy's lucky day, since who knew this sexy hunk had suck a huge cock? Skyy can hardly fit this beer-can thick monster inside his mouth. This handsome Czech ski instructor might not be a great kisser, but boy can he fuck! Skyy gets a deep and raw drilling. And he's definitely going to book Peter for the rest of his stay in the Chalet.
MORE FALCONSTUDIOS I MORE PETER ANNAUD I MORE SKYY KNOX 
Peter Annaud Fucks Skyy Knox from FalconStudios:
( Watch the full trailer here! )