Freshmen #206: Rico Gabbani Solo Gallery
This week's issue #206 from Freshmen brings us two very hot bareback hardcore videos and a solo gallery of handsome newcomer Rico Gabbani.
Rico Gabbani was introduced last week in Freshmen Issue #205 in scene with fan-favorite Kirk Gauguin (see here). Today, in Freshmen Issue #206, they are bringing us the Rico Gabbani Solo Gallery. Next month, they will feature him in another hardcore scene with another newcomer. And the introduction will be complete. Well, that's what they say, but I disagree. Since they didn't release an interview with Rico yet.
Both releases with Rico didn't get very good ratings from their members. Which is easy to explain. First, he's been featured on quite a number of other studios before. Second, he's not blond but rather a dark type. And third, he has a few not so pretty tattoos. I have to admit, that I was also surprised to see him show up on Freshmen. And once again, I am positively surprised, how differently models are presented on BelamiOnline and Freshmen. I think, Rico is totally hot. I just would have introduced him on BelamiOnline first, and not necessarily on Freshmen.
Peter Annaud with Ashton Montana. I'm a big fan of both guys. And Ashton seems to be a big fan of Peter's huge cock. He totally makes love here to Peter's cock. And later happily bounces up and down and that beer-can thick dick. What a talented bottom-boy! Definitely a great addition to their cast!
Visit Freshmen to watch the trailer, or join to watch the full video!
And as the second hardcore scene, Nate Donaghy with little newcomer Allan Aimée. Allan looks so cute and innocent. But that doesn't stop Nate from giving him quite the pounding here. Little Allan is loving it, though. And ends up getting a huge facial from horny young stud Nate.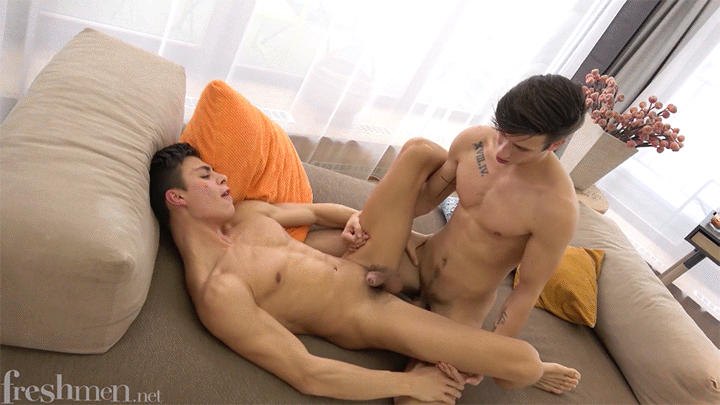 Visit Freshmen to watch the trailer, or join to watch the full video!
MORE FRESHMEN I MORE RICO GABBANI I MORE SOLOS
Rico Gabbani Solo Gallery from Freshmen: