EastBoys: Stories With Johny Walsh – Part 3
I am continuing to bring you this hot series from EastBoys featuring smooth young Johny Walsh on tour with their producer Angelo Rossi.
So I already brought you part 1 (see here) and part 2 of this series (see here) from EastBoys. And today, it's Stories With Johny Walsh – Part 3. Producer Angelo Rossi is on tour with their model Johny Walsh aka Johnny Walsh. First they stopped at an old ruin and Johny pulled out his large for us to watch and Angelo to get his hands on. In the second, they put the stakes a little higher and Johny jumped around naked on an open filed in the evening sun.
For the third and fourth part, after touring the beautiful Czech countryside, Angelo found a room in a hotel in some small town. After having a joint on the balcony, they head inside. The young jock puts on his earphones and listens to some music while Angelo worships his lean body and slowly pulls down Johny's undies. What a sexy young guy. He looks a bit stoned here. But seems to enjoy being worshipped.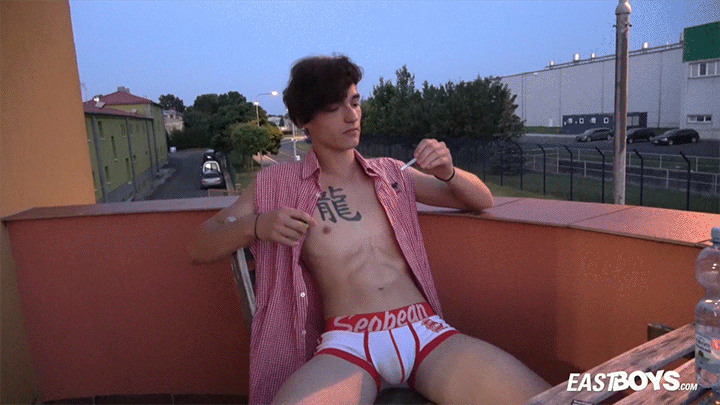 That large cock looks already very tempting although it's not hard yet. Angelo oils up the boy's smooth body and growing cock. Now Johny leans back on the bed and Angelo plays with his muscles, hot bubble butt and now rock hard cock. The video of part 3 is almost 20 minutes long. Part 4 has 17 minutes. Of course they could have made this one video with 30 minutes, but they like to tease us. Can't wait to finally see Johny bust his load…
MORE EASTBOYS I MORE JOHNY WALSH I MORE HANDJOBS
Stories With Johny Walsh – Part 3 from EastBoys:
( Watch the full trailer here! )